No, I am not talking about a cinema hall or movie theatre here; but, the fine art that involves real-life performers to present the experience of a real or imagined event on stage, before a live audience.[1]
Speaking of which, the theatre has played a very crucial role in communicating a lot of aspects of society, be it about the contemporary world or ancient past. The history of theatre in India dates back around 5,000 years. In early forms, the performances were often narrative including recitation, singing, and dancing.[2]

Well, here I am not going to bore you with ancient history but rather, talk about the modern face of theatre that has been evolved over years. Now, first of all, why is it even important?
"All the world's a stage,
And all the men and women merely players;"

The Seven Ages of Man


These are the lines from Shakespeare's monologue that we all have probably read in our high school. It denotes that we are indeed actors in our lives, irrespective of time, place or age.
The roles performed on the stage are deeply connected to the emotions that we experience in our daily lives. Also, stories have been the best way to teach and learn. Adding visual effect to it can leave a lasting impact on the viewers. This is why theatre is an important medium of delivering messages to the layperson in the form of entertainment. It is also an exceptional way of learning about one's culture and tradition.
Now you may be thinking, what made me write about this fine art. Well, I have always liked watching acts since childhood and I feel that the theatre acting is waning nowadays where people have easy access to media. I have been longing to watch acts just like the old days but kept procrastinating with excuses. Thanks to my friend Vicky who asked me to watch his performance in KIRDAAR'19.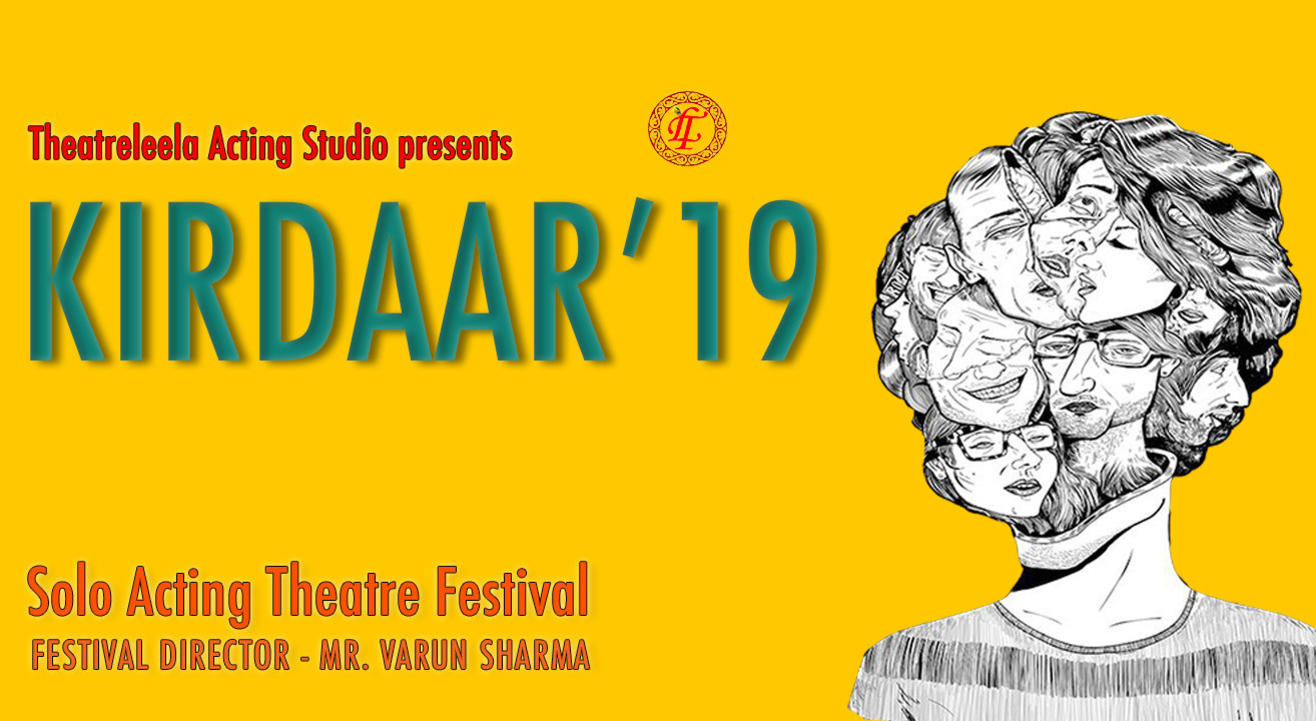 KIRDAAR'19 is a great initiative by Theatreleela Acting Studio founded by Mr. Varun Sharma who is an award-winning actor and director of Delhi University. It is a 2-day solo acting theatre festival, held on 16th and 17th February 2019 at Akshara Theatre, New Delhi that involved 64 solo acts of the young actors that were effectively performed by them.
Well, the event was organized on the weekend so one could take a short break from a busy life to enjoy the acts. I bought tickets for 2.30 pm- 4.30 pm slot that had 8 acts in total.

Following is the list of acts that I watched :

1) A coloured photo
Well, it was quite a confusing act but I think that was the purpose of it. The story starts with an old person who reads about anthropology with his another friend who has disappeared suddenly. But then he talks about this photograph in which there is an unpublished book that they decided to read together after completing 2000 other books. Confusing right? Well, it turns out his mysterious friend was no one else but he himself, as a character from the books.

2) Story of Kansa
This solo act was based on the life of Kansa (apparently the google search and Wikipedia also spells it as "Kamsa"), king of Mathura and brother of Devaki(mother of Lord Krishna). About how his own ego and tyranny makes his own bed of death. This act was inspired by the famous playwright Daya Prakash Sinha's work – " Katha Ek Kans ki".

3) Passion
It was performed by my friend, where he depicts a day of the life of a struggling actor who lives in a small room with other such people and faces failures and rejection in auditions despite being talented. The act shows the ugly side of the film industry where hundreds of hearts are broken every day.

4) Mortuary
This act was based on the inexcusable crime of drinking and driving. How a man was involved in infidelity and then kills another man while he was too drunk to control his car. This all leads him to a mortuary that becomes a scary eye-opening experience for him.

5) Mahavat
It was hard to understand this act but what I figured out from its bits and pieces was that it was something related to money. Like, money traps you in a vicious circle from which the more you try to come out the more you keep sinking in and it eventually leads to death.

6) Aurangzeb
It's a solo act about the last night of Aurangzeb where he was crying over his deeds but his own sons were not there to console him. He narrates all the hardships he faced in his life and asks for forgiveness in his eleventh hour.

7) Haseena Parkar
No matter how notorious your brother is and how much he annoys you at times, you can never stop loving him. This act was about a sister who cannot stop loving her brother despite the fact that he is the most-wanted underworld criminal. She stands in the dock narrating her story of sufferings.

8) The Ordeal
Have you ever experienced a nightmare where you want to speak or shout or run but you just can't? Well, this act was about a famous model who takes a break from her busy life by going on a solo trip but as soon as she goes to sleep she gets trapped in this horrifying dream and struggles to get out of it.

And not just the actors, the two hosts were pretty amazing too. Kudos to their team for hard work and making it a huge success. This entire show will be broadcasted on Anjan TV soon so one can see for itself whether I did justice here to their acts or not. 😛

Well, I suggest that one should definitely try watching acts at least once. I mean it's better than wasting your precious time watching useless TikTok videos of people who can't even lipsync properly *no offence*. Also, unlike movies, they seem more real and engaging; tickets are usually not so expensive and you can meet actors afterward so if they become a star someday you can tell your grandkids that you met them and probably show a selfie whatsoever. 😉 (Yep! This was the best I could come up with. XD)

If you liked this post, please share and do leave your feedback in the comments 🙂